Marriage License Information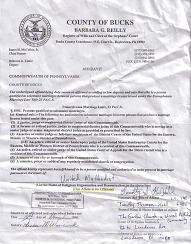 Sometimes the road to wedded bliss has a short on-ramp. Rev. Tim is happy to conduct marriage ceremonies right in his office that are brief and meaningful. If a signature on the license is the only thing required, that can work too!
An office ceremony may not seem like a romantic setting, but when time is of the essence, or when funds are limited, Rev. Tim is happy to oblige. Here in Pennsylvania (and nearby New Jersey, Maryland and Delaware), a licensed and credentialed Wedding Officiant must preside over a wedding for legal purposes. That means, "sign the license". A full ceremony isn't required by law. Rev. Tim is an experienced, Ordained Minister in the United Methodist Church, making him eligible for that need signature, or for a ceremony that is quick and simple or glad and are eloquent. In any case, Rev. Tim is always professional.
There are many cases when a signature or brief ceremony is all that is needed. Destination wedding couples want to be confident that their wedding is fully legal in the US. Rev. Tim can sign the license or perform a brief ceremony to erase any doubt. Rev. Tim can complete and sign the wedding license in his office and couples with monetary restrictions are never denied service.
Call Rev. Tim to discuss his services and how he can assist making marital dreams come true.
How to obtain a "Legal Record" of your wedding:
In order to get an updated passport and possible other documents after your wedding, it may be desirable for couples to get what is called a "Legal Record". After your wedding, a portion of your marriage license is filled out by Rev. Tim and sent to the county (PA) where the marriage took place. The copy that he leaves with you is not universally accepted as evidence of marriage. Sometimes a "Legal Record" is required, (which means a document that has a raised seal on it and can only be obtained after your marriage and after he has returned the appropriate documentation to the issuing office. There will be a fee for a Legal Record of your license. You can obtain that from the issuing office after the ceremony has been registered with that agency by Rev. Tim.
Where you need to get your marriage license:
Pennsylvania – you may obtain your marriage license at any issuing office in the state and take it to any other locality within the state for the marriage ceremony. There is a 3-day waiting period after the application is complete. The license is valid for 60 days.
New Jersey – you may obtain your marriage license at any issuing office in the state and take it to any other locality within the state for the marriage ceremony. However, if you live in anywhere outside of New Jersey and are getting married in New Jersey, you must apply for your license at the same locality where the ceremony will take place.
Delaware- Delaware residents can get married 24 hours after they apply, while out-of-state residents must wait 96 hours. The license is valid for 30 days.
Applicable in all states:
Both parties must be present in person in order to apply for your license. In no case can you be married outside of the state from which you obtained the license. In all cases, provide a Social Security Card along with a government-issued photo ID (such as valid drivers license) for identification. When you apply for your marriage license, you both must appear in person. Bring cash or check. If there was a prior marriage, applicants must present proof of death or divorce. The offices are open from 8:30 AM until 3:30 PM weekdays only. Non-citizens must present proof of legal entry into the United States.
Eastern PA marriage license bureaus
Bucks County (215)348-6000 – Main and Court Streets, 3rd Floor, Doylestown, PA Chester County (610)344-6335 – High and Market Streets, West Chester, PA Delaware County (610)891-4548 – Front and Veteran Square, Media, PA Montgomery County (610)292-4965 – Main, Airy and Swede Streets, Norristown, PA Philadelphia County (215)686-2233 – City Hall, Broad and Market Sts., Room 413, Philadelphia, PA